Procedure
Prepare a single deep-dish pie crust recipe. Dock and bake as directed. Set aside to cool completely.
If you are lucky enough to have our own raspberry garden, pick raspberries into small containers to avoid crushing the fruit. If using store produce, select firm berries. Rinse under cold running water and drain in colander. Turn out onto cookie sheet covered with a kitchen towel to wick away remaining water.
In a medium saucepan, add a small amount of the water. Add salt, cornstarch and cardamom. Mix to make a smooth paste. Add sugar and remaining water. Stir frequently over medium high heat until thickened and mixture clears. Reduce heat to simmer and cook an additional 5 minutes, stirring frequently. Add Jell-O and stir until mixed. Remove from heat and set aside to cool and thicken.
Carefully fold dried berries into cooled cornstarch mixture. When berries are well covered, pour into prepared pie shell. Refrigerate to further set glaze.
Prior to serving, prepare whipped cream. Spoon whipped cream into piping bag and apply generous ribbons to top of pie.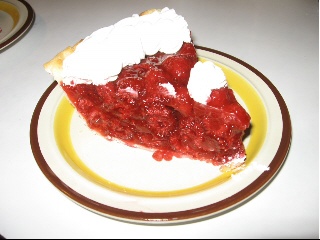 Cardamom (ground seed): Ceylon and South India are the primary sources for cardamom. It is a popular ingredient in Scandinavian cooking in both meats and pastries. It is an essential ingredient in East Indian curry . In the Arab countries it is used extensively as a coffee flavoring.