Off-Season Training

All-Terrain Vehicle
In the off-season, that means when there is no snow on the ground, the dogs are exercised using an all-terrain vehicle in place of a sled. The Alaska sled dog is a world-class athlete. Just like any human athlete, training is required to obtain the best performance and minimize the chance of injury. You start with a mid exercise regimen and increase the difficulty and the repetitions as the athlete is able to tolerate them. Welcome to the sled dog gymnasium - barren ground and the atv.
All year long the dogs have off-chain free exercise periods with compatible kennel mates. When the seasons turn cool, and the snow is expected in several weeks, exercise switches from the kennel yard to the track system. At first the dogs exercise in a single two mile lap which is repeated next days until the dogs tolerate it well - usually a week or two. Then it is two laps with a break between. Then it is two laps in a row, adding as tolerated, until the dogs are able to pull the ATV about 8-miles. Power muscle has been built as well as general conditioning. When the snow comes, the sled is easier and much faster to pull across the snow than dragging the ATV across the ground. Then it is a few short runs with the sleds building up miles at the higher speed, building endurance, as tolerated.
We would take the team out to the Biirchwood trail system and use the all-terrain vehicle to exercise the dog in preparation for the coming winter.
Coming down the last leg of the 2-mile loop. A nippy fall day but dry. We are not always so lucky to have the rain wait until after we have finished our exercise routine.
It is hard to imagine the power of a dog team until you have squeezed the hand brake and stepped on the pedal brake with all your weight an still have the dogs pull your ATV down the trail, locked wheels and all. In the beginning of the run it is hang on for dear life and hope that nothing goes wrong!
You start with but a single 2-mile lap and then pack up and go home. A few days later its back for another 2-miles. After a couple of weeks, you start adding laps. By the end of 2 months, you are doing 8 or 10 miles. This is building power muscles, strength, as the ATV is harder to pull than a sled. After the snow finally comes, you gradually add miles for endurance. Mother-in-law Peggy seems to have enjoyed her lap around the track.
Father-in-law Sonny on the back of the ATV after a brisk 2-mile run around Birchwood Trails.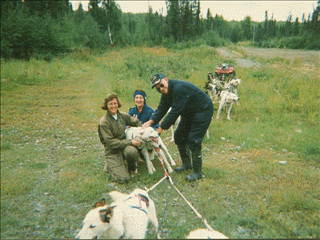 The dog react positively to interaction with the musher. Petting, calling them by name and telling them, "Good dog!" lets them know it was a good training session

We undo the tug lines but leave the neck lines in place. That way the dogs are contained but they can't pull hard against the ATV. After a few minutes of cool-down, the dogs are given water and a treat - dog biscuits! Then its load up in the truck, puck up all the gear and trailer the ATV and head home. The dog are expecting to be fed shortly after we arrive home and they usually get their way.

Return to Our Dogs Index Page Latest revision done January 2006